parlai.core.message¶
File for Message object and associated functions.
The Message object's key function is to prevent users from editing fields in an action or observation dict unintentionally.
Bases: dict

Class for observations and actions in ParlAI.

Functions like a dict, but triggers a RuntimeError when calling __setitem__ for a key that already exists in the dict.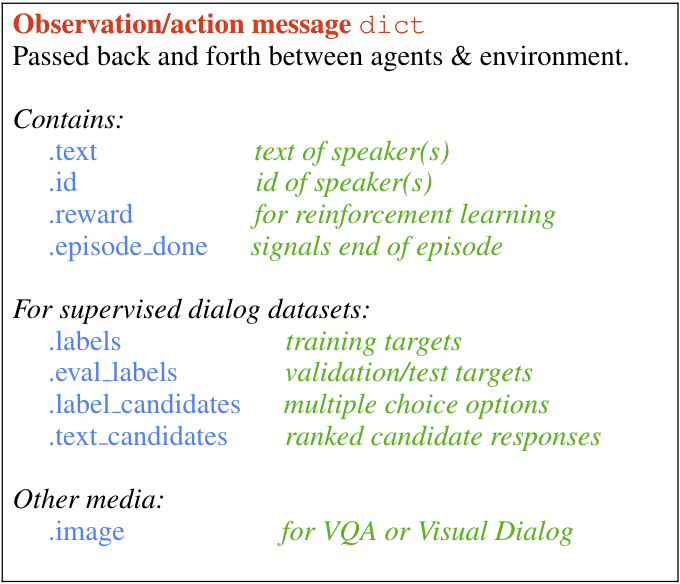 The primary medium for information flow (messages between agents and the environment) in ParlAI is a Message, a subclass of a python dict containing the actions of an agent (observable by other agents or the environment). The Message object is defined at parlai/core/message.py.
We generally refer to these messages as observations or acts. One should be created by an agent's act() function, and it will be passed to another agent's observe() function as the sole argument.
In general, fields are optional when creating your own task. However, there are a number of standard fields that are common and should be used when the appropriate type of data is being sent to the model. This allows models trained on one dataset to easily train on a different task or even to multi-task.
If necessary, teachers can include other data in this dict using other field names. See extended fields_ below.
The primary function of the Message object is to ensure that agents do not unintentionally edit the fields within observations and actions. In order to edit the field of a Message object, one must call message.force_set(key, new_value).